Home > Archives > 2007-07
2007-07
2007-07-19 (Thu)
Uncategorized
こんにちは!元気ですか?台風の後ですが、大丈夫でしたか?2人の女の子が笑っています。何か楽しい事でもあるのでしょうか?最近の若い女の子はクラッシュを簡単に見つけます。誰かを好きになって、彼女のクラッシュ/アイドルになります。それが普通でしょう。それを気がつく前に、そうなる事もあります。貴方のクラッシュは誰ですか?そんな経験はありますか?
Hello blog viewers! Have a nice day to all of you! I hope all of you are doing well now as the typhoon had just passed away. By the way, these two girls are smiling. There is something within that makes them to be happy. Nowadays, young girls like them easy to find crushes. It started that she like the person very much and it became her crush/ idol. Sometime this is really happened and its just normal. Don't you think so? And often we had this in the note before : Who is your crush? This is true diba? Had you been into this stage? Have a nice day!
2007-07-15 (Sun)
Uncategorized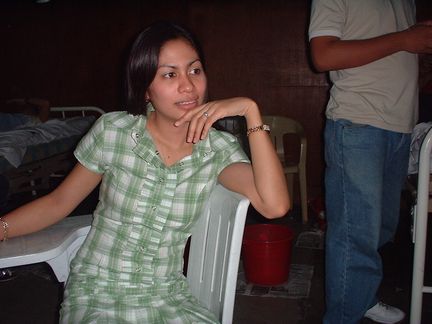 こんにちは!今日は土曜日です。天気は如何ですか?台風は大丈夫でしたか?フィリピンは今は良い天気です。ところでこの綺麗な人は、先生です。22歳です。ケアギーバーコースのナースの先生です。彼女のクラスの生徒からは、頭が良くて綺麗だと言われています。そう思いませんか?彼女は住んでいる場所でミス マナプラにも選ばれました。生徒が彼女に男性のタイプを質問しました。私より頭が良くて、背が高い人だそうです。もし貴方がその様な人であれば、彼女に申し込んでください!フィリピンに来て、彼女に会いましょう
Have a good day blog viewers! How are you today? Today is Saturday, how's the weather over there? I hope not much affected by typhoon. Well, here in the Philippines, we are experiencing now a fine weather. By the way, this beautiful lady I posted for my comment is a teacher. She is 22 yrs of age, took up nursing, presently taking a review for license while teaching caregiver course. She has the brain and beauty they said from her previous classes. It's obvious don't you think so? She became the Miss Lin-ay of Manapla, a kind of pageant on her town. This is true, one time one of her student asked her about the type of guy he wanted to be her boyfriend, she answered, because I am a perfectionist woman, I like guys who is more intelligent than me, taller than me, and above all submissive to me.So you guys over there, if you are this kind of man, then lucky you are coz you can apply to her directly…by going here in the Philippines and look for her.
2007-07-13 (Fri)
Uncategorized
こんにちは!写真の二人の若い女の子は、珍しくウォーキングを楽しんでいます。彼女たちは、ウォーキングしている間に、フルーツを取ったりしています。彼女たち木に登るのが好きです。貴方は?
Have a good day blog viewers! By the way,this is a picture of two young girls who love to go on country walks not most of the yuong people now a days is not into this kind of idea but this two still had the passion to go on country side walks. You can notice it by the back ground on the picture they are enjoying the view and also the tree, they pick up fruits while walking… They love to climb on trees. How about you? What hobby do you have?
Home > Archives > 2007-07
Profile

Name: Leonor
Female, 28
Location: bacolod city PH
College: St.La Salle University


Calendar

Recent Entries

Recent Comments

Categories

Archives

Tag Cloud