Home > Archives > 2006-08
2006-08
2006-08-30 (Wed)
Uncategorized
こんにちは!今日は暑いですか?夏はより暑くなっていますか?此処フィリピンではコールセンターでの仕事に応募する人が増えています。この写真はコールセンターへ応募した人が面接しています。私が仕事をしている時も、私の後ろで面接してる人が沢山いるので、それに集中できません。私のような状況になった時貴方はどうしますか?彼らの声でいらいらしてきます。2日間の面接は、私にとってはいい日ではありませんでした。彼女たちが最終選考に残る事を期待します。グッドラック!
How are you my dear blog viewers! Do you feel hot for today? Is summer there still going more hotter? Here in the Philippines, call center is in demand and more hot… Many of it are on its operation and still giving more job opportunities for those graduates who wanted to apply and are interested. As with the picture depicted, call center applicants are on their one on one interview with the personnel. As I am doing my job, I could not concentrate coz at the back of mine, they are doing a job interview and they talked loudly. If you are on my situation how could you handle this one? I was irritated by their voice. The two- day job interview was not good for me. I hope they can find another venue for the final screening. Goodluck to call center applicants!
2006-08-29 (Tue)
Uncategorized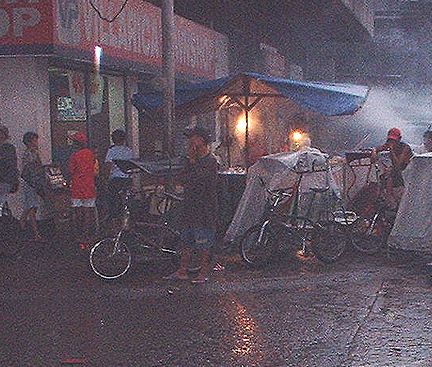 こんばんは!お元気ですか?写真の通りは濡れています。まだ雨が降っています。道路の角に何が見えますか?貴方の街にはぺディーキャブはありますか?彼らはお客さんを待っています。でも、お客さんはいません。お客さんはタクシーやジプニーを使うからです。何故でしょう?もちろん雨で濡れているからです。自然には逆らえません。彼は風邪を引いて、薬代にその収入が使われるかもしれません。この事をどう思いますか?
Good evening my dear blog viewers! I hope all of you are doing fine. Is it hot over there? If you see the road, it is almost wet, why? The rain still keeps on falling down and what do you see in the corner of the road? Is there a pedicab in your town? They are waiting for the passenger but cannot catch because some may take a ride in taxi or jeepney to protect themselves from the rain. Their situation is more difficult than the taxi driver and jeepney driver, why I think like that? When they have passenger of course, they bring the passenger to his/her destination but almost wet from the rain. It is a conflict between nature and himself. He might get sick and the money or income he gets from his driving is not compensated from his medication if it happens. What do you think about this? Am I right?
2006-08-28 (Mon)
Uncategorized
こんばんは!元気ですか?週末は楽しみましたか?貴方は、ペディキュアやマニキュアをするのにパーラーに行きますか?ここフィリピンではあまり行く事はありません。電話をして、来てもらってそれをやってもらいます。または、その場所に予約をして行きます。値段は50ペソです。パーラーよりずっと安いです。貴方ならどちらを選びますか?パーラーまたはハウスサービス?
Good evening to you my fellow blog viewers! How do you do? Did you enjoy your weekend? Are you used to go in the parlor for pedicure and manicure? Well, here in the Philippines not anymore in demand by going to a parlor. Old customers or known customers only make a call for a house service then that is the chance and time that the manicurists will go to the customer's house or in another way around the customer's might call and set a time to be there in manicurists' house and she just wait. The customer pay for P50 manicure and same price also of pedicure unlike price in the parlor which is higher. If you were a customer what is your choice? In the parlor or house service? Have a nice day!
Home > Archives > 2006-08
Profile

Name: Leonor
Female, 28
Location: bacolod city PH
College: St.La Salle University


Calendar

Recent Entries

Recent Comments

Categories

Archives

Tag Cloud