Home > Archives > 2006-09
2006-09
2006-09-29 (Fri)
Uncategorized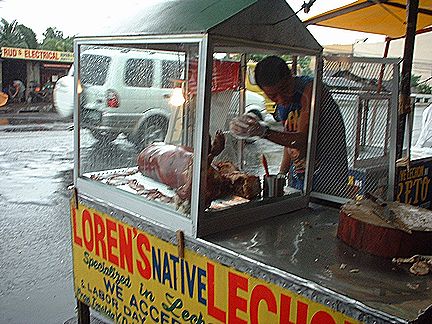 フィリピンの人気のある料理の一つ、レチョンは誕生日、お祭り、親戚の集まりなどでよく出てきます。この写真がそうです。レチョンは丸ごと、1/4、1/2、キロ単位で売られています。レチョンカワリ、レチョンマノック、そして一番いいのがネイティブレチョンです。レチョンのクリスピースキンを食べれば止められません。試してみてください!!!
One of the most popular dishes in the philippines, the native lechon is a must in every filipino occassions,whether it is a birthday,Fiesta or just a family reunion. You can see in the picture that it has been in the business ever since. The price of selling lechon is by kilo whether it is bought,1/4,1/2 or per kilo. It comes with a sauce that is compatible to the variety of lechon such as lechon kawali,lechon manok and the most best is the native lechon. Once you have tasted the crispy skin of lechon,you just can't stop but ask for more…try it and believe! Have a pleasant day!
2006-09-28 (Thu)
Uncategorized
こんにちは!元気ですか?この写真はアジアのベストビールです。サンミゲルビールです。フィリピンで作っている有名なビールです。沢山の品物がサンミゲルに関係しています。サンミゲルライト、レッドホース、サンミゲルバレルド等です。この国の経済を助けています。サンミゲルの商品は何処ででも目にします。パーティーなどには必ずあります。フィリピン人の友好関係"タアス モ ト"その意味は友達に乾杯です。
Hello blog viewers! Good evening to all of you! I hope all of you are doing fine. This is a picture that portraits the Asia's Best Beer…The San Miguel Beer. This is one of the proudly made Philippine product. A lot of variety has comeout that is related to San Miguel products, there is San Miguel Light, Red Horse Beer, San Miguel Barrelled. It is also one of the economic helpers of the country. During occassions it is impossible that you cannot find any San Miguel products. It is one of the life of the party, most of all it nourishes the true Filipino friendship…"Taas Mo 'To" which means a tossed for the friendship. A pleasant day to all!!!
2006-09-27 (Wed)
Uncategorized
こんにちは!お元気ですか?ところで、最近の学校では果物でお祝いをします。皆がテーブルの上のマンゴを準備しています。貴方はフィリピンの国の果物を知っていますか?マンゴがそうです。ネグロスでも沢山マンゴを作っています。グリーン、イエローマンゴです。カラバオマンゴを見たことがありますか?カラバオ(牛)に似てるのでしょうか?冗談です。何故かというとそのマンゴは大きいからです。私もマンゴは好きです。彼女たちの顔を見て下さい。幸せそうで早く食べたそうにしています。ジューシーなマンゴを食べてみてください!!!
Hello blog viewers! Good evening to all of you! I hope all of you are doing fine. By the way, today the school is having a celebration of fruit festival. Everyone enjoys preparing ripe mango on the table. Do you know the National Fruit of the Philippine? If you don't, well I want you to know that mango is our National fruit. Here in Negros, a vast of land is planted with mango, ripe and unripe mango likewise called also as green mango and yellow mango. And above all, there are different kinds of mango, such as apple mango, carabao mango and etc. Do you seen a carabao mango already???If we say carabao mango does it mean that it is same as with the carabao animal?Just kidding, of course not. It is only named like that because its size is bigger compare with other mango. By the way, I love eating of it. Look at their face, they are happy and expecting to eat as soon as possible as many as they can. Do you want to join with them? Have fun while eating the juicy mango!!!
Home > Archives > 2006-09
Profile

Name: Leonor
Female, 28
Location: bacolod city PH
College: St.La Salle University


Calendar

Recent Entries

Recent Comments

Categories

Archives

Tag Cloud