Home > Archives > 2007-03
2007-03
2007-03-28 (Wed)
Uncategorized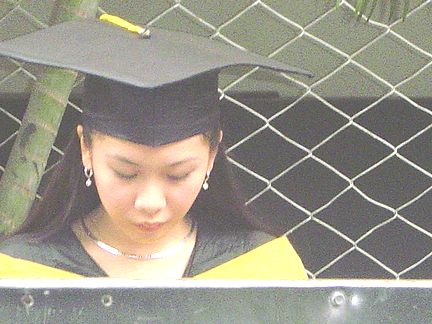 こんばんは!元気ですか?学生皆が卒業する為に、頑張って勉強します。卒業を迎えると新しい目標にチャレンジします。写真の女の子は、色々考えています。色々な事が終わりまた、新しいスタートです。貴方は如何ですか?同じような気持ちになった事がありますか?
Have a pleasant evening blog viewers! How are you today? By the way, all students aim to graduate and with all the hardships dealt during the time when she studying. And when this time comes all the worries is gone and new challenges arises. But looking to this young lady in the picture has a lot of meaning. This entitles a lot of willingness to finish what all she has started despite of the hardship. How about you? Did you feel the same way?
2007-03-26 (Mon)
Uncategorized
こんばんは!元気ですか?写真の2人はSt. La Salle Universityの学生です。2人は1年の時から一緒に勉強が出来て幸せでした。ラサールの姉妹校です。そこの学生は良いですよ!Viva La Sallista!!!
Good evening blog viewers! How do you do? I hope all of you are doing fine. These two ladies are studying in University of St. La Salle. Happy they are because they are blessed!!! They are studying in a first-class school of the province. How lucky they are, don't you think so? University of St. La Salle is a well- integrated school founded by La Salle Brothers. Students are molded to become a true la sallian, with passion and fear to the Most High. Viva La Sallista!!!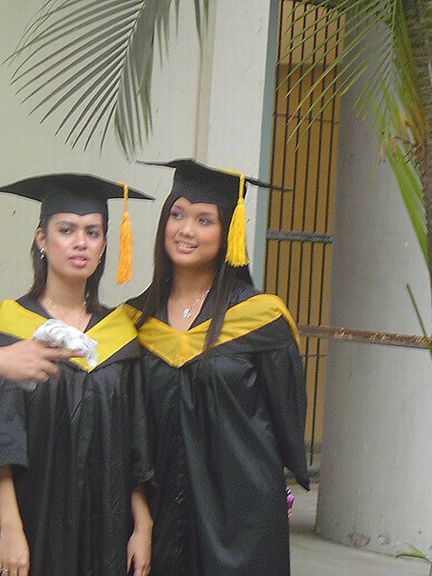 2007-03-26 (Mon)
Uncategorized
こんばんは!ウィークエンドは如何でしたか?この写真の女の人はレストランで食事するのが好きです。彼女は綺麗で、頭も良いです???彼女の好きな料理は、バターチキンとクラブ&ミートスープです。食事代は1人分280ペソでした。朝と昼はパン、マッシュルームスープとレモネードしか食べていません。今日は特別な日なので、レストランで食事をしました。
今日は大学の卒業式でした...
Good evening blog viewers! How is your weekend ? This is a picture of a lady who loves to eat at a premier class restaurant. She got beauty, brain and has also a talent??? Fine dining is what she likes most. Her favorite cuisine is the buttered chicken and crab & meat soup. She spend almost 280 just for her dinner alone but during morning and lunch she takes only bread and mushroom soup with a lemonade. During special occassions, she really enjoys the discounts in different restaurants. She also suggest some foreign dishes to be served at exclusive restaurant. Do you know a lady who also does this kind of hobby?
Home > Archives > 2007-03
Profile

Name: Leonor
Female, 28
Location: bacolod city PH
College: St.La Salle University


Calendar

Recent Entries

Recent Comments

Categories

Archives

Tag Cloud