Home > Archives > 2007-03-26
2007-03-26
2007-03-26 (Mon)
Uncategorized
こんばんは!元気ですか?写真の2人はSt. La Salle Universityの学生です。2人は1年の時から一緒に勉強が出来て幸せでした。ラサールの姉妹校です。そこの学生は良いですよ!Viva La Sallista!!!
Good evening blog viewers! How do you do? I hope all of you are doing fine. These two ladies are studying in University of St. La Salle. Happy they are because they are blessed!!! They are studying in a first-class school of the province. How lucky they are, don't you think so? University of St. La Salle is a well- integrated school founded by La Salle Brothers. Students are molded to become a true la sallian, with passion and fear to the Most High. Viva La Sallista!!!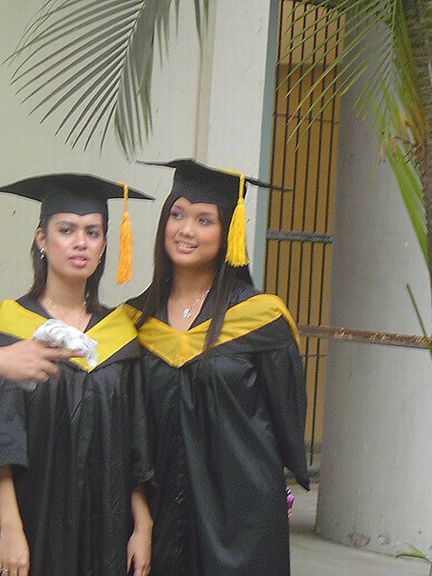 2007-03-26 (Mon)
Uncategorized
こんばんは!ウィークエンドは如何でしたか?この写真の女の人はレストランで食事するのが好きです。彼女は綺麗で、頭も良いです???彼女の好きな料理は、バターチキンとクラブ&ミートスープです。食事代は1人分280ペソでした。朝と昼はパン、マッシュルームスープとレモネードしか食べていません。今日は特別な日なので、レストランで食事をしました。
今日は大学の卒業式でした...
Good evening blog viewers! How is your weekend ? This is a picture of a lady who loves to eat at a premier class restaurant. She got beauty, brain and has also a talent??? Fine dining is what she likes most. Her favorite cuisine is the buttered chicken and crab & meat soup. She spend almost 280 just for her dinner alone but during morning and lunch she takes only bread and mushroom soup with a lemonade. During special occassions, she really enjoys the discounts in different restaurants. She also suggest some foreign dishes to be served at exclusive restaurant. Do you know a lady who also does this kind of hobby?
Home > Archives > 2007-03-26
Profile

Name: Leonor
Female, 28
Location: bacolod city PH
College: St.La Salle University


Calendar

Recent Entries

Recent Comments

Categories

Archives

Tag Cloud